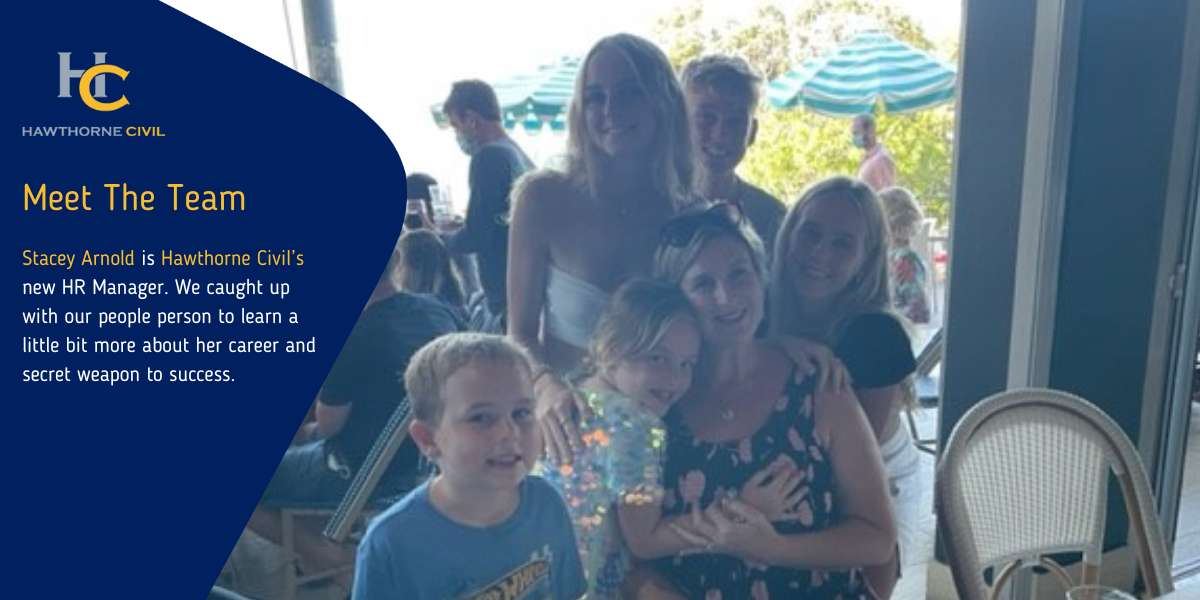 Meet the Team - Stacey Arnold
Recent recruit Stacey Arnold is Hawthorne Civil's new HR Manager. Fierce and fearless, Stacey has a passion for life, loves to travel and expresses herself as a 'fire poi' dancer. With a work history in New Zealand, the UK and now, Australia our all-action mum of 5, believes that being able to adapt and embrace change is the 'secret weapon' to success.
Why did you become a HR Professional?
I was lucky enough to work alongside some fantastic HR leaders very early in my career so witnessed the impact and value that they brought to the business. Coupling my natural desire to help people and my love of the law, it was a natural evolution into the path of a long-term HR career.
What do you love about working in the engineering and infrastructure industry?
It's incredibly dynamic and complex with so many moving parts. No two days are the same so it's impossible to become stagnant in what you're doing in any role across the industry.
What are you working on at the moment?
Familiarising myself with this amazing new company and team, our priorities, and immediate opportunities as a business and as an employer.
What has been your greatest professional achievement to date?
What a fantastic question. I am proud of the fact that I have experience across multiple industries dealing with all types of workforces and in various employment markets - I have worked in HR in New Zealand, the UK and now Australia and all are vastly different. Having the courage to seek this experience and continue to grow, learn and adapt is something I am proud of.
What's the best project you have worked on?
If you mean construction project, then I am happy to have had exposure to Queensland's iconic Cross River Rail project which was the first time I had worked within a joint venture of this nature. It gave me significant insights into the construction industry and extended my skills. Most importantly I'm grateful for the relationships and connections I built.
What's the most useful thing you've learned throughout your career?
Nothing is ever black and white in life, especially in HR. So, don't make assumptions, adapt your style and approach to suit your audience/situation to get the best outcome for both parties, is the most important part of our role. And always admit when you got it wrong - It's not how hard you fall, but how you get back up that counts.
What do you enjoy doing when you are not at work?
I love spending time with my husband and five children, playing netball, finding new music, walking the dog, cuddling the cats, and generally being out in nature.
What do you enjoy about being part of the Hawthorne Civil Team?
The team is vibrant, warm, dynamic and highly experienced and most importantly shares the same values. Culturally it was an instant connection and fit.
What Hawthorne Civil Project are you excited about working on?
All of them! I have so much to learn about each of our projects and there is so much exciting growth in the immediate future! What a great time to join the business!
Tell us a little bit about your background - where are you from, family, hobbies, interesting facts etc?
I'm originally a Kiwi but have been in Queensland since 2011. I married an Australian, we have five children between us and we live in Brisbane's Bayside. My favourite band is The Cure and I think Robert Smith is an incredible poet. I was a grunge girl growing up but I also love my dance music; I performed fire poi's on stage at a music festival in the South Island of New Zealand in my 20's, I love chocolate, driving at night isn't as comfortable as it used to be (I feel so middle aged saying that), and I absolutely love scary movies and rollercoasters.