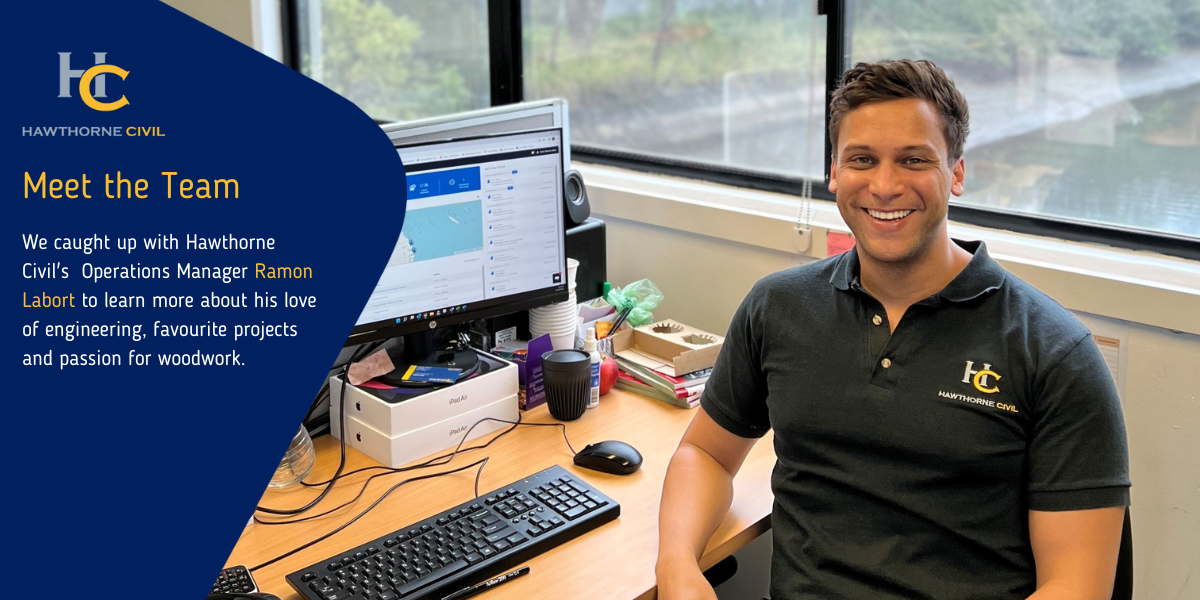 Meet the Team - Ramon Labort
Hawthorne Civil's Operations Manager Ramon Labort has been a key part of our growth, supporting our team, leading our operations and making a difference to our clients and their projects. We caught up with Ramon to learn a little bit about him, what fires his passion for engineering and why he enjoys life at Hawthorne Civil.
Why did you become an engineer?
I was always interested in construction and building things. My older brother became a civil engineer, so after hearing his work stories and experiences, I decided to study engineering myself. After Uni I found myself drawn more to the construction side of things rather than design/consulting and have been on this side of the fence ever since.
What do you love about working in the engineering and infrastructure industry?
Tangible outcomes. Unfortunately, my simple mind does not compute if I can't see a finished product, so working in the construction industry I get to see progress on the projects we work on, as well as the finished product at the end of the day.
What are you working on at the moment?
Everything. The thing I love about my job is the number of different hats I get to wear each day. From managing fleet and plant, arranging training or employee onboarding, to being the inhouse quasi-IT guru, buying furniture for a project house or being HC creative arts director (I designed a logo once). But the variety of juggling numerous tasks so that the rest of the team - who do the actual work - can have what they need to get the job done is so satisfying.
What has been your greatest professional achievement to date?
Getting our ISO Accreditation and TMR Prequalification are both the highlights so far. To get them both across the line was a big relief and also great to see the hard work of the team pay off.
What's the best project you have worked on?
I was fortunate to work on the Constitution Avenue Upgrade project in Canberra while I was down there. It was a complex, high-profile project which had a lot of new elements the team had never worked on before. But to see it all come together and look as spectacular as it does after it being just piles of dirt and big holes was pretty satisfying.
What's the most useful thing you've learned throughout your career?
It's better to try and make a mistake than to not give something a go. This took a bit of time for me to come to terms with as we are taught to be quite risk-averse as engineers, but having some senior colleagues, managers and mentors who were happy for me to give things a go helped to build my confidence.
What do you enjoy doing when you are not at work?
I spend a lot of my time outside of Hawthorne Civil involved in community volunteer work which I find very rewarding. Other than that, spending time with my fiancée, family, and friends relaxing
What do you enjoy about being part of the Hawthorne Civil Team?
It's great to be able to work closely with each and every area of the business - from project and office staff to our workers on-site. Everyone is always ready to help no matter what the task is, which makes it so much more enjoyable to know you have the help when you need. The whole team is passionate about our reputation and delivering the best as a group, and we are continuing to achieve great things.
Tell us a little bit about your background - where are you from, family, hobbies, interesting facts etc?
I would consider myself a less than amateur woodworker, but love to spend time in the garage whittling away when I have some free time. I have made a few dining and coffee tables for myself and some friends. I still have 10 fingers so I would consider it a success.