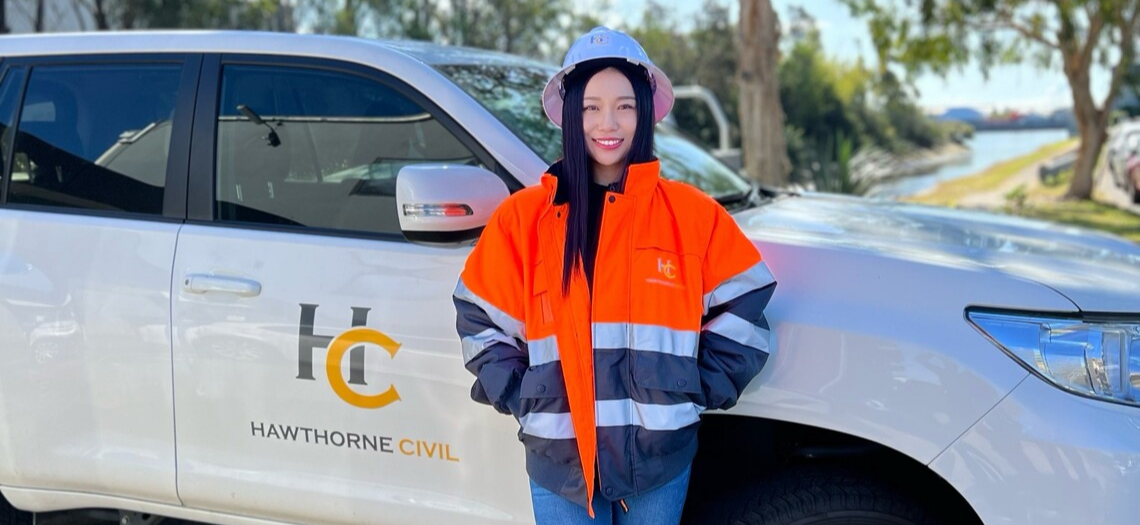 International Women In Engineering Day Interview - Lori Qin
International Women in Engineering Day began in the UK in 2014 as a national campaign from the Women's Engineering Society. Since then, INWED has grown enormously, receiving UNESCO patronage in 2016 and going truly global the following year.
In 2021 the theme was #engineeringheroes. Highlighting and celebrating the heroes of INWED and their inspirational, real-life, engineering stories. For 2022, we're looking towards the future, focusing on the inventors and innovators who will change the industry for the better.
We caught up with Hawthorne Civil's Lori Qin to discuss her career in infrastructure and how the sector can improve female participation.
What inspired you to work in the infrastructure industry?
I would say my father influenced me when I was young because he used to work in the construction sector for many years and used to operate his own business working on some construction projects back then, so I was greatly impacted growing up in such an environment. I kind of always believe that I was born with a passion and love for construction and that I was supposed to work in this field. I decided to major in Project Management at university since I intended to enter this field and work in construction my entire life.
Is there a particular woman in engineering that supported your career that you'd like to acknowledge on International Women In Engineering Day?
So I moved to Australia a few years ago with no local experience, despite having worked in the construction industry since I graduated from college in 2013, but I had to start over after moving to Australia. I began working as a project/site administrator, but I've always wanted to transition into a more technical and professional position, but it's challenging because of my language barrier. However, this woman Stephanie Gibson, the Senior Contract Administrator, helped me greatly in my development into and becoming a Contract Administrator. She was incredibly kind and supportive, and I am so glad I met her since she helped me fulfil my first-stage dream.
What advice would you have for a female student thinking about a career in engineering/infrastructure?
If you are interested in working in construction, go for it! Don't hesitate to pursue it or give up just because you are a woman. Anyone may work in this field. Women can accomplish it too!
The theme for this year's INWED is looking towards the future, focusing on the inventors and innovators who will change the industry for the better - who in engineering inspires you through their work?
Enda, our managing director, began this company only in 2013, but I believe he has achieved remarkable achievements and successes in getting it to where Hawthorne Civil is today, made me believe that nothing is impossible if you put your heart and soul into it, you will alter things and the industry for the better, and each of us can make significant contributions.
What needs to be done to boost female participation number in engineering?
Promoting more women to leadership positions providing mentoring support and role modelling to women engineers.
Mentoring through gender-specific programs with female engineers, working as mentors and role models to address stereotypes of the engineering workforce.
Maternity pay and provision for paternity pay and leave, incentives to return to work, flexible working hours, child care provision, and support for family mobility.
Promoting a generic role for engineering degrees.
Offering flexible course structures.
Scholarships and fellowships for female students and researchers in engineering.